The Emilie Autumn Official Fan Club opened on March 3, 2013. It is managed by Emilie Autumn and Melissa King, the Asylum Headmistress, and the website is hosted by Autumn. Members are given access to Journal-like entries on the site by Autumn, early ticket sales, web chats, exclusive media content, and the sign-up package gifts. Members are also submitted into random giveaways, which include signed posters, t-shirts, and Inmate laminates (so far!). Registration also advertises that Asylum Army Members will have access to an exclusive web-shop with exclusive merchandise, but this has yet to be opened.
General Information
Edit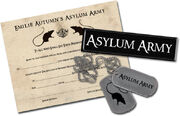 Registration
Edit
Since the club's opening, the only option for membership is a one-time payment of $99.95 for a lifetime membership. Registration includes a membership, an Official Certificate of Membership with a personalized Army number and autographs from Autumn and the Asylum Headmistress, an "Asylum Army" iron-on patch, and a set of Emilie Autumn dogtags (the dogtags are printed with white lettering and imaging, despite being advertised as black).
An explanation of the expensive cost for registration was released by the Asylum Headmistress not long after the website went live.
The cost [of the Asylum Army registration] really basically covers the costs of running the fanclub itself - keeping the database up, website etc. We will be having giveaways on a pretty routine basis. I have been collecting shirts, signed photos, signed cd's, tea towels etc to save up for these giveaways that will be randomly picked with no one being able to win more than once a year. [1]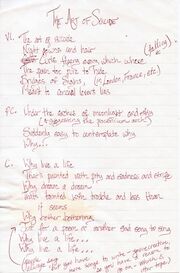 So far, the Asylum Army has been offered the following content:
Short sneak-peek at the Fight Like A Girl music video.
An image frame of the Fight Like A Girl music video.
Digital downloads of The Asylum for Wayward Victorian Girls book chapters (1-4).
Three Asylum desktop wallpapers.
Early access to VIP tickets for the Fight Like A Girl tours.
Handwritten "The Art of Suicide" lyrics. (one page posted pubically)
"Unlaced" Sheet Music.
Livestreams and webchats
Giveaways
Edit
So far, giveaways have included t-shirts, signed photos from "The Asylum" photoshoot in 2012, and VIP Inmate Laminates/Passes from previous tours.
Members can only win a giveaway once a year.
Livestreams
Edit
The first livestream was held by Autumn on June 24, 2013. It went live at 8PM Pacific Standard Time from Los Angeles, California. The stream was hosted through Ustream and a text-chat was available beneath it. 
Topics covered included Autumn's favorite Disney movie (Sleeping Beauty!), skin care, musical expectations, a live performance of "Girls! Girls! Girls!." More questions were answered about her setlists and her tours. Special guest stars included Marc Senter (who performed "Fight Like A Squirrel") and Captain Maggots (who perfromed her role as "The Protoge"). 
References
Edit
Community content is available under
CC-BY-SA
unless otherwise noted.