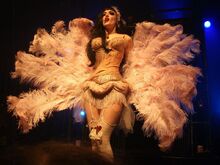 "Dominant" is an instrumental piece by Emilie Autumn without vocals, featured as the first track of the second disc on the album Opheliac and the third track of the second disc of The Deluxe Edition of Opheliac. It has been performed live ever since the Opheliac era, and serves as the cessation to the Bloody Crumpets introductions and the prelude to the Rat Game. Veronica Varlow is the only Crumpet onstage during the song, performing a burlesque routine with large pink ostrich-feather fans. The live performance of "Dominant" formerly featured a satirical performance by Maggot, Contessa, and Sugarless. "Dominant" is 3 minutes and 47 seconds in length.
Releases
Edit
Album: Opheliac
Track Number: 1 (Bonus Disc)
Length: 03:47
Released: September 1, 2006, September 22, 2006 & February 5, 2007
Album: Opheliac - The Deluxe Edition
Track Number: 2 (Disc Two)
Length: 03:47
Released: October 26, 2009
Sheet Music
Edit
Community content is available under
CC-BY-SA
unless otherwise noted.