Enchant

Background Information
Released
February 26, 2003
Length
61:23
Genre
Folk, Classical, Celtic
Label
Traitor Records
Enchant is Emilie Autumn's first full-length studio album, released in 2003 on Traitor Records and later re-released on Trisol Music Group GmbH in 2007 and 2008. Autumn has said she has intentions on re-releasing the record through The Asylum Emporium records in 2014.
To see information on Enchant's Enchant Puzzle, visit the Enchant Puzzle page.
Development and Publication
Edit
The songs for Enchant were written in a five year time span between 1995 and 2000. [1]  The earliest released date for Enchant ever reported was for 2000, by Enchant Clothing & Costume, who were Autumn's sponsors at the time. It was intended to be released on Seraph Records, which the Chambermaid EP was released on, but after Autumn broke with the label she released the album on her own record, Traitor Records. Some reports stated that the album could have been released in 2001 or 2002. Despite this, the album was officially released in 2003 by Traitor Records.
The earliest Enchant was performed was during Autumn's 2001 performance at the Halstead Market Days, two years before the album was released.
The album had no official singles, but the Chambermaid EP was released in 2001 and featured songs from the upcoming album.
Tracklisting
Edit
Enchant Promo
Edit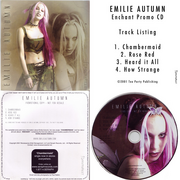 A promo CD for Enchant was released sometime in 2001 under Seraph Records. Copies of this disc are extremely rare, but have been sold at Autumn's early merchandise tables. The disc is encased in a plastic sleeve.
References
Edit
Community content is available under
CC-BY-SA
unless otherwise noted.