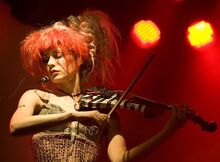 "Face the Wall" is the eighth and final track of the Unlaced disc of Emilie Autumn's entirely instrumental album Laced/Unlaced. The song features only electric violin and no other instruments or effects. "Face the Wall" also uses parts of songs performed by classical violinists. It was performed at every Opheliac show since its release. At 6 minutes and 50 seconds long, it marks not only the longest song on the album but the longest song Emilie Autumn has ever composed.
Released
Edit
Album: Laced/Unlaced
Track: 8
Length: 6:50
Release: March 9, 2007
Community content is available under
CC-BY-SA
unless otherwise noted.