Marc Senter is an American actor who is best known for playing the role of The Scorpion in The Devil's Carnival, a film in which Emilie appeared alongside him. As of 2020, Marc and Emilie are currently in a relationship, and live in an apartment together in Manhattan, New York.
Early Life Edit
Marc Senter was born in Littleton, Colorado. He later moved to Los Angeles, California before relocating to New York City with Emilie.
Relationship with Emilie Edit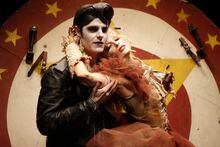 Marc and Emilie met on the set of The Devil's Carnival in 2012. The two were only briefly introduced to one another before having to shoot a scene together - Emilie estimates that they had known each other for "approximately one hour" before they filmed a scene in which their respective roles, The Scorpion and The Painted Doll, kissed.[1]
The two developed a close friendship after working together on the film. Marc subsequently appeared in Emilie's Fight Like A Girl music video. While on set for the video, Emilie uploaded a photo of her and Marc to Twitter, referring to them as "Hollywood power couple, Marcilie."[2] Many fans took this as an official confirmation of their relationship, while others suggested it was possibly a joke, much like how Emilie and Veronica Varlow pretend to be a couple onstage. As of 2020, both Marc and Emilie have yet to officially confirm that they are a couple, however they have been very open about their relationship on social media, often posting photos of them together or each other, coupled with captions speaking very fondly of each other. Exact dates of the beginning of their relationship are undisclosed.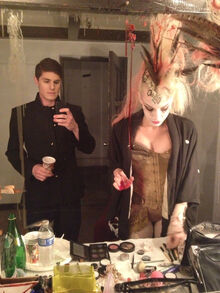 In July 2015, Emilie insinuated on Twitter that she and Marc were engaged, tweeting, "Often wonder if cyberbullies [are] aware they're fucking [with] a girl who's... marrying a knife-throwing scorpion."[3] Fans debated whether this tweet referred to Emilie and Marc themselves, or a possible plot line for their characters in The Devil's Carnival. Neither of these speculations were confirmed nor denied by Marc or Emilie, and as of 2020, it remains unclear as to whether they have been married or not.
Platonic Friends Edit
"Platonic Friends" is a side project started by Marc and Emilie using the aliases "Sharc" (Mark) and "The Admiral" (Emilie). Platonic Friends was said to be a musical project, though no Platonic Friends content other than a promotional photo was ever officially released, suggesting that the band was simply an inside joke between the two rather than a serious project. Though some fans took the band's name in a literal sense and believed it as confirmation that Emilie and Marc were simply close friends rather than dating, others believed it was intended to be sarcastic.
Emilie and Marc have lived together since approximately 2013, first sharing an apartment in Los Angeles before moving to New York City.
Emilie and Marc call each other "Scorps" and "Doll," respectively, a reference to the names of the characters they portray in The Devil's Carnival.
Emilie and Marc have collaborated twice so far, appearing alongside each other in The Devil's Carnival film series and again in Emilie's Fight Like A Girl music video.

Both the film and the music video feature a scene in which Emilie and Marc kiss.
Platonic Friends could arguably be considered a third collaboration between the two; however the band is also often interpreted as a short-lived inside joke rather than a legitimate project.
Marc is rumored to have a role in the upcoming Asylum for Wayward Victorian Girls musical, which will mark the third official collaboration between the two.

Marc assists Emilie in managing the Asylum Emporium online shop, often helping her package and mail orders as well as occasionally modeling apparel.
Marc's official "Asylum Cell Number," as assigned to him by Emilie, is W14BB.
References Edit
↑ Fun fact: Did you know that we had met approximately one hour before this picture was taken? Another fun fact: I bit Scorps so hard in the kissing scene that I wrote him to apologize the next day. Turns out he didn't hold a grudge. https://www.instagram.com/p/B0E9GNLhcWZ/
↑ Emilie Autumn on Twitter: Orderly#3 @MarcSenter & Inmate W14A in a rare moment of not physical abuse aka Hollywood power couple, Marcilie!! https://twitter.com/emilieautumn/status/284085206036672514
↑ Emilie Autumn on Twitter: Often wonder if cyberbullies r aware they're fucking w/ a girl who's BFs w/ maker of the SAW films & is marrying a knife-throwing scorpion. https://twitter.com/emilieautumn/status/625863473608523776