fLee, Queen of Tarts 
(Lee Helmer), or Queen fLee, is a close friend of
Emilie Autumn
, one-half of
WillowTech House
and
Alter
, a Shrine to Recycled Fashion, and a former Administrator on
The Asylum Offical Fan Forum
. She is located in Chicago, IL, and lives with her husband and their two children; a daughter and son known as MinifLee and General Yaya, respectively. She is the head of her own website,
fLee's Market
, which promotes the sale of hand-made items and helps advertise people's listings from ebay and etsy.
She works as a Senior Interactive Marketing Manager at Marketing Support, Inc.[1] She is also the co-founder of Tron Quixote and lists herself as a Social Media/Online Community Manager for Emilie Autumn Enterprises. [2]
Emilie Autumn and Queen fLeeEdit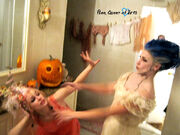 According to fLee, she and Autumn met in Las Vegas at the Excalibur Hotel.
EA and I met at the Excalibur Hotel and Casino gift shop in Las Vegas about 10 years ago. She was all Ren Faire'd out and I thought she worked there so I asked her directions to the buffet. Turns out she lived in Chicago too and the rest is history![3]
Together, fLee and Autumn put together the Emilie Autumn Official Forums and the businesses WillowTech House and Alter, a Shrine to Recycled Fashion. fLee has also accompanied Autumn to a number of photoshoots (including the photoshoot for The End Records cover of Opheliac and the cupcake photoshoot for KinKats magazine), as well as appearing in the video, "A Day Out With EA." She is a familiar face at International Muffin Meet Ups and any Chicago-based even Autumn arranges.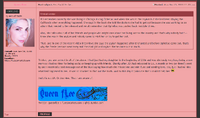 Queen fLee and Autumn apparently fell out of touch when Autumn first moved to LA in 2005 or 2006 because of the distance between them. In early 2006, fLee had her first daughter.
In a forum post on March 15, 2010, regarding an aspect of Autumn's book, The Asylum for Wayward Victorian Girls, fLee gave some insight as to when Autumn might have been hospitalized (see image to the right). She also states that person "J__" in the book is neither Autumn's former friend, Lady Parasyte, or former Bloody Crumpet, Lady Joo Hee.
In 2011, fLee distanced herself from the Emilie Autumn Forums and is no longer an entirely active administrator. At times she may help forum members arrange meetups and she still posts on occassion.
WillowTech House and AlterEdit
fLee acted as one-half of the two businesses WillowTech House and Alter, A Shrine to Recycled Fashion. Both websites were side-businesses to Autumn's Traitor Records and music career.
Autumn and fLee formulated the perfume "Mistress" together for WillowTech House.
ReferencesEdit