Sachiko is a pupil at the Unfortunate Girls' Music Conservatorie.
Sachiko is from "the Orient" (presumably Japan), but due to her young age when arriving at the Conservatoire has no memory of where exactly from. She is often a target for ridicule by most of the student body, the exception being Emily, who loves her for the exact reasons the other girls shun her. They become best friends.
One cold night, while playing in the attic, Emily finds a miniature portrait of Sachiko and surmises that her Asian friend is about to leave the Conservatoire, which she does the very next day. Promising her that she will write Emily upon first opportunity, she leaves with the coachman to face her glorious future.
Months after a letter from Sachiko makes it to Emily, urging her friend to run away from the music school immediately. A few years later, Sachiko is arrested for vagrancy and dumped on the doorsteps of the Asylum. Upon being reunited with her friend, Emily remarks that whatever Sachiko has been through during the time they have been apart must have been horrible as she is unresponsive and appears traumatized. She is welcomed into the now seized Asylum and soon regains her former strength and effervescence.
Personality
Edit
Sachiko is resilient, kind and courageous, with a penchant for mischief. She is a very talented musician, her instrument being the violoncello, and she loves sweets. Unlike Emily, she is terrified of leeches.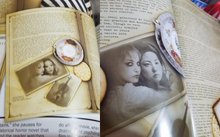 Sachiko's name is said to mean "Child of Happiness" and the kanji used for her name is "佐知子". The meaning given is not accurate for the kanji.
In a book reading before the books release, Sachiko is named Joo Hee, after the Bloody Crumpet and is said to be Koean, as the real world Joo Hee is. It is unknown why the change was made.
In addition to this, in a preview for The Asylum Book in the August 2008 edition of Alternative Magazine that showed a number of pages from the book one of them is the page with Sachiko and Emily's photograph, in the preview it has the Bloody Crumpet as part of the original version of the photo as opposed to an unkown model.
Community content is available under
CC-BY-SA
unless otherwise noted.