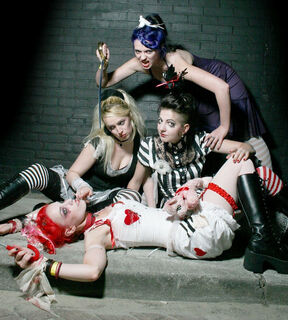 The Bloody Crumpets are Emilie Autumn's live backup dancers and stunt artists. They have toured with her from the release of Opheliac onward. Emilie has been accompanied by them for every one of the Opheliac and Fight Like A Girl tours. Each of the Crumpet has a special talent, such as playing an instrument or performing acrobatics. Emilie has stated that there are no auditions.
List of Bloody Crumpets:
Other Bloody Crumpets who have been mentioned by EA but never actually toured were Mistress Apnea (an internet model and actress), Violet, and Tristan. The musician Jacinda Espinosa also performed with EA for two shows.
The only Bloody Crumpets who are currently touring are Veronica and Maggot, although Maggot will be "replaced" by Moth. Maggot is said to be returning in at least seven months.